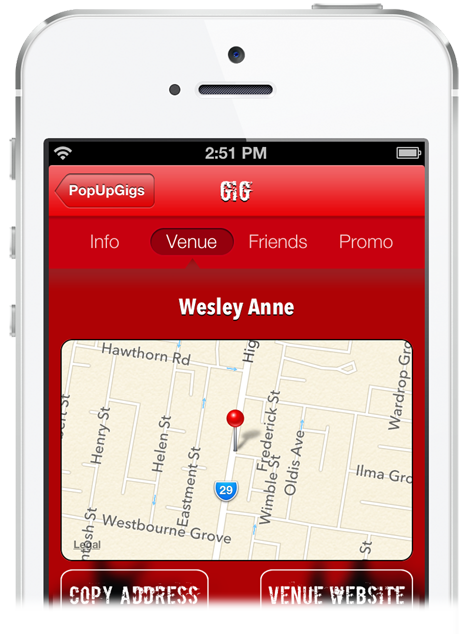 Global
It doesn't matter whether you are gig hunting in Helsinki, searching in Sydney or finding in Florida, PopUpGigs lists gigs from all over the world.
It's like magic. Tag a gig you are interested in. When the time comes, iPhone will automatically notify you.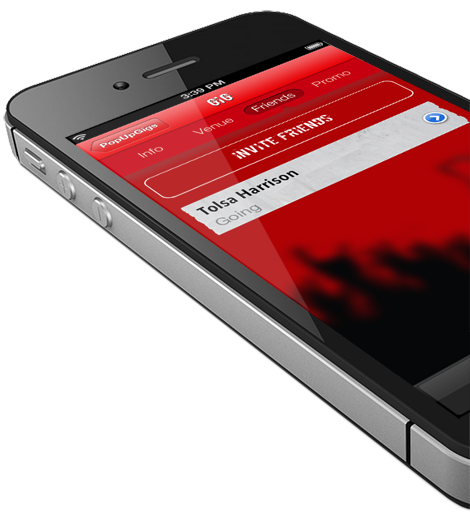 Friendly
PopUpGigs is very Facebook friendly. Tag any gig as 'Going' or 'Maybe' to let PopUpGigs automatically notify your Facebook friends.
Invite Facebook friends to join you at a gig with one tap.
When there are free promos to be claimed, why not share the love?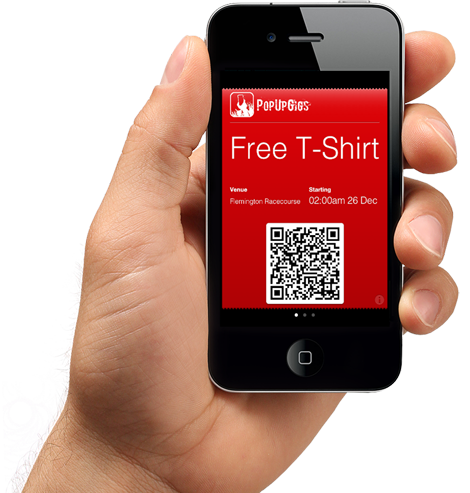 Promos
PopUpGigs is much more than just a gig finder. It's one tap to add promos to Passbook and claim free gifts.
To claim your promo you just show your Passbook promo to bar staff. They'll scan it and you will be the lucky recipient of a freebie!
The ultimate gig creation service for Venues, Sponsors & Acts
There's more to PopUpGigs than just a cool App for your guests. Using PopUpGigs Backstage, Venues, Sponsors and Acts can all discover and contact each other - simplifying and streamlining the process of putting a gig together. Acts can reach out to venues across the globe. Sponsors can offer promotional materials to venues to use as free promos at the gig. Venues can create multiple locations, unlimited gigs plus access to the exclusive PopUpGigs User Notifications System as well as statistics listing attendee counts, promos redeemed and user ratings.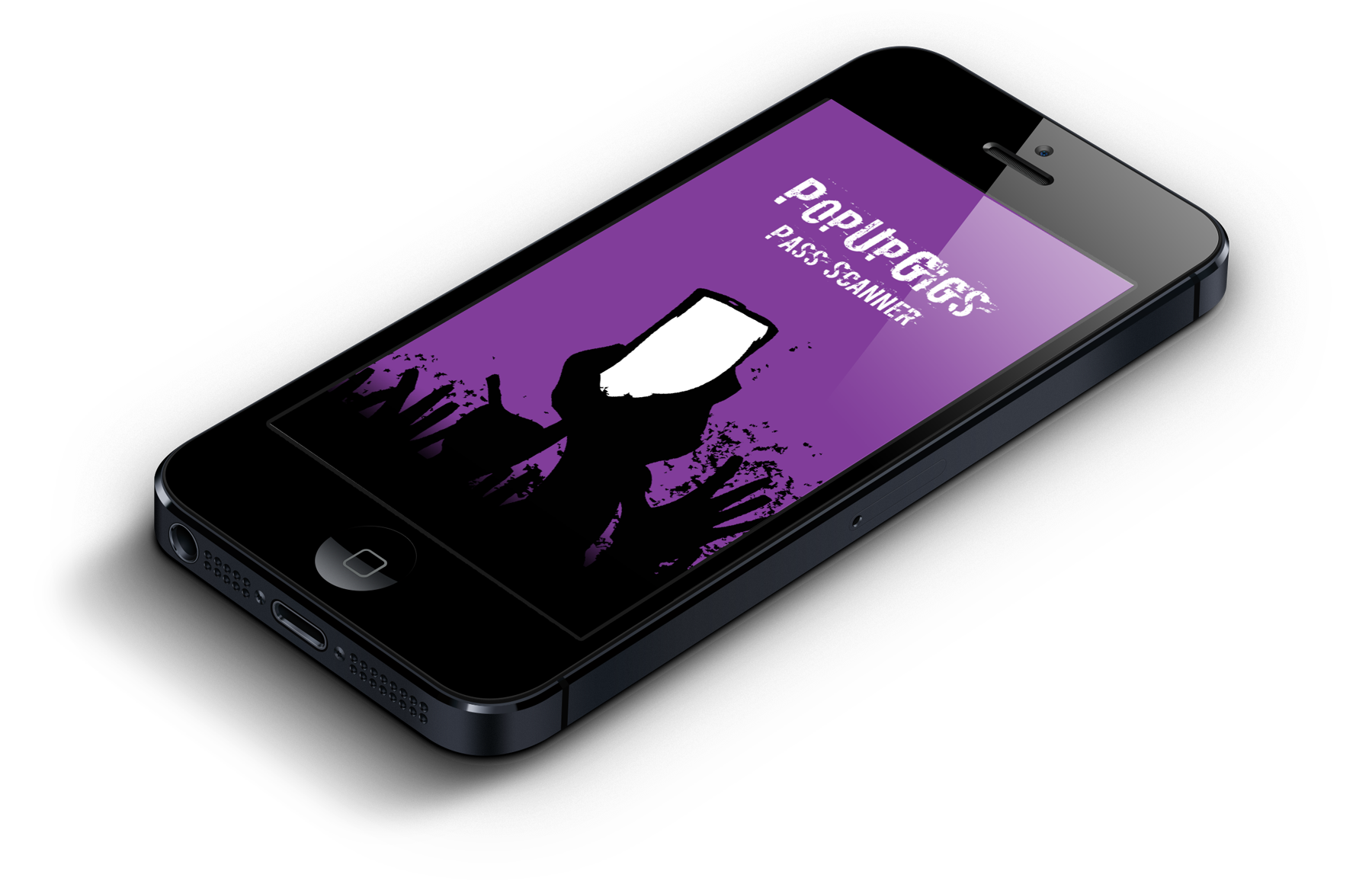 Scan
A simple way for you to offer, track and redeem promotions
Every venue has a unique PIN. Track and redeem promos in one tap. Promo Scan checks promos are valid. You can then hand over your promo.
Each user can only redeem once and all promo statistics are stored in your Backstage for your review.
Venues: Download the free Promo Scan App now.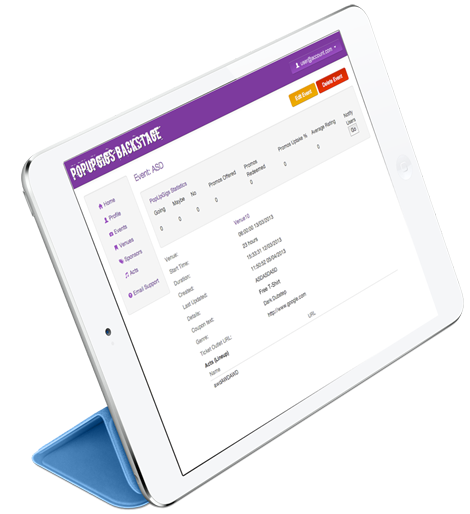 Stats
PopUpGigs Backstage provides a series of data points for all your gigs giving you vital indicators on the success and popularity of your gigs.
Compare event and promo statistics. Compare interest levels with your own door count. And more...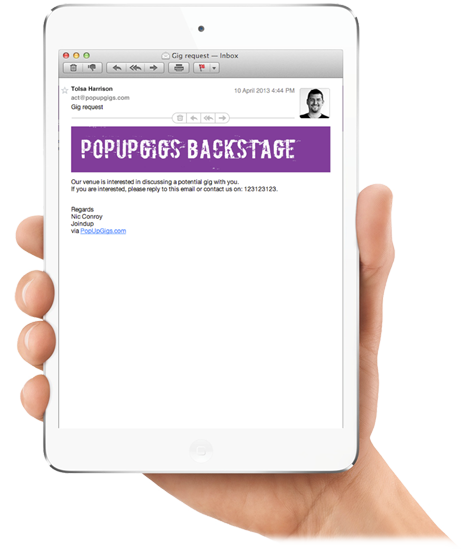 Message
Putting a great gig together requires so many things - great Venue, Promotions, Acts and more. PopUpGigs Backstage also provides all members with access to PopUpGigs Contacts.
Venues can contact Sponsors and Acts to help setup gigs. Acts can request gigs and Sponsors can offer promotions. It's a much easier way to reach the right people. And you never have to remember where you left it.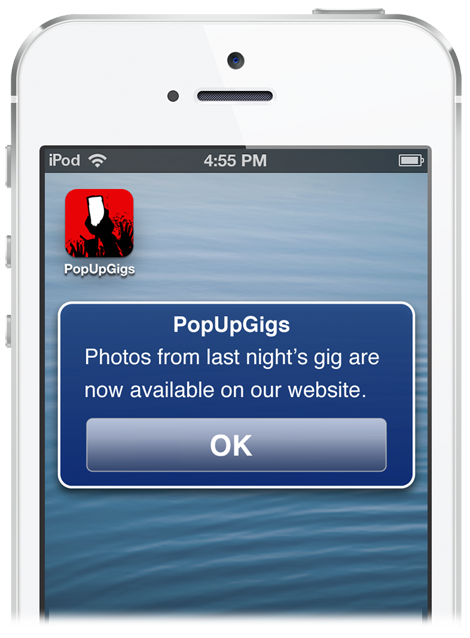 Notify
The notification system built into Backstage gives every venue a chance to send a message directly to attendees' iPhones, once per event.
You can direct them to your website where they can view photos from the gig, complete feedback or contribute to your Facebook page. Or offer rewards, or promote a similar genre of gig.